[vc_row][vc_column][vc_column_text]
KQ GEO Technologies Co., Ltd was incorporated in Beijing Economic and Technological Development Zone in May 2001. With over ten years' development, the company has become a high-tech private enterprise that integrates research and development of software and hardware as well as surveying and mapping in 3S field.
The total asset of the company is over 61.2 million USD, and the number of professional personnel reaches 3,100. The company has a lot of branch offices in Beijing headquarter, covering Zhongguancun, Economic and Technological Development Zone, Daxing, Huairou, Tongzhou etc. The "KQ GEO Building" with 14,000 m2has been fully completed. Besides, the company set up 31 branch offices in the mainland China and has founded technical centers in Beijing, Wuhan, Ji'nan, Hefei, Chengdu, Shijiazhuang and so on.
The company has been approved by Beijing Municipal Commission of Economy and Information Technology as Technology Center, having over ten qualifications including Innovation Company Certificate, Class-A Qualification of Surveying and Mapping, Computer System Integration Certificate, Quality Management System Certificate (ISO9001), Information Security Management System Certificate (ISO27001), CMMI (Capability Maturity Model Integration) Level 3 Certificate etc.



Former Vice Minister of Ministry of Land and Resources, Mr. Xu Deming and the President of KQ GEO Mr. Xu Wenzhong inaugurated KQ GEO Beijing Technical Center.




Premier Li Keqiang at KQ GEO Stand




Cooperation between Universities and KQ GEO
KQ GEO focuses on the development of core technologies and products such as remote-sensing, geoinformation, satellite navigation etc., and our business scope covers data collection and processing, research and development of GIS platform and remote-sensing platform, development and production of satellite navigation software and hardware, informatization solutions, public applications and services etc. With years' experience in 3D field, the company has possessed a lot of core technologies, and self-developed software and hardware platforms such as KQGIS Desktop, KQGIS Server, KQGIS Mobile, Multisource RS Data Integrated Processing System, High-accuracy RTK Field Mapping System etc. Based on those products, the company has developed Business Platform integrated with portals, workflow, enterprise service bus, GIS service and data exchange, which formed nearly a hundred mature spatial informatization solutions covering data collection, data processing, data management, professional applications and so on. All of them have been widely applied in government departments, industries, national defense, public service etc.
During recent years, the company's software business has been growing rapidly and the growth rate of comprehensive output value is over 30% per year. Since its establishment, the company has successfully undertaken many major scientific projects held by United Nations Development Programme, National Development and Reform Commission, Ministry of Science and Technology of People's Republic of China, Ministry of Land and Resources of People's Republic of China, National Administration of Surveying, Mapping and Geoinformation, Beijing Municipal Government etc., and plenty of major national and provincial projects involving land, forestry, water conservancy, agriculture, digital city, national defense, surveying and mapping, environmental protection, electric power and so on. Our company's products received good reputation and better marked recognition in those products.
KQ GEO has been trying best to improve R&D ability. We have set up research institutes and international research and development centers. With continuously increasing investment in research, the company has been striving to create a Class-A technical team and has become a worldwide "۳S" solution supplier. We hope that more clients will benefit from our leading technologies and products in "۳S" field.



Successfully Holding Several Governmental Informatization Forums




Actively Developing Foreign Markets




Indoor View of KQ GEO Building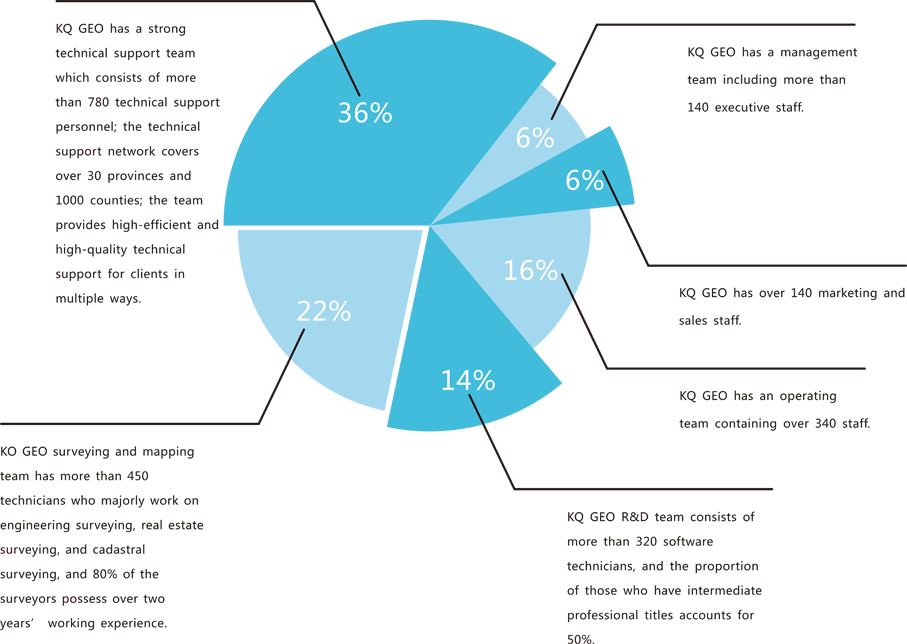 [/vc_column_text][/vc_column][/vc_row][vc_row][vc_column][vc_empty_space height="100″][/vc_column][/vc_row]